Sep, 10 2021
The iXflash Cube provides peace of mind every time you charge your iPhone or iPad!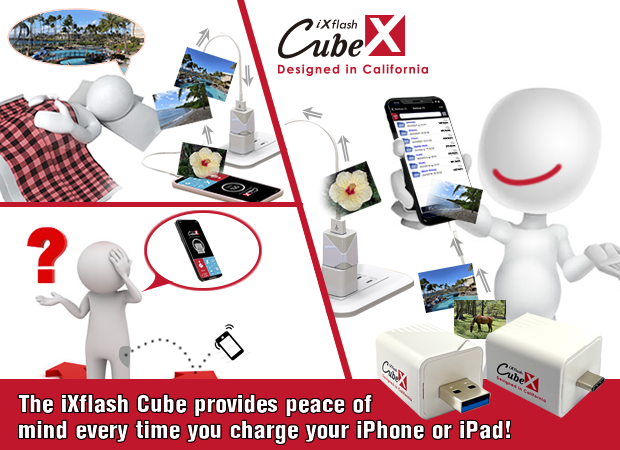 The reality is, smart phones and tablets are our default cameras. We always have them with us and we use it to take pictures of everything from life affirming events to the meal we're about to eat. Now consider that more than 80% of those people never backup that content and those images reside on their smart device indefinitely. The problem is, 70 million smartphones are lost each year, with only 7 percent recovered. That means roughly 80% of those 70 million people will lose all those images forever with no recourse.
The key is that even though those millions of people realize they should have backed up their content, for one reason or another they didn't. Maybe they didn't know how? Possibly, they thought the only option was paying for a cloud service and didn't have the means or just didn't want to add another monthly expense? Another reason could be they purchased a device, like our iXflash drive, that they could use to backup, but because they have to remember to manually connect the device and perform the backup, they just never got around to it?
All of these reasons are valid, but now they are obsolete! Vinpower has released the iXflash Cube, which connects to the charging cable for an iPhone and/or iPad and will perform a full backup automatically, every time the iPhone / iPad is plugged in to charge. Everyone needs to charge their iPhone / iPad, and it's generally done at least once per day. The iXflash Cube takes all the hassle out of performing a backup, because it takes place automatically while the device is charging without any added operation or action taking by the device owner. It's seamless and the backed up content could be easily transferred to a computer or restored onto another mobile device.
No one wants to think about losing their mobile device, but the iXflash Cube lessens the impact of that loss by knowing your important pictures and videos are safe and easily retrievable.
To learn more about this item, or any of Vinpower's line of products, visit www.vinpowerdigital.com, or speak with a Vinpower representative in your area.
Interested in this article? Click on the following link to read this and all previous email blasts and interesting related content from Vinpower's official Blog: https://blog.vinpowerdigital.com/