Sep, 24 2021
Vinpower offers an array of Optical Drives for use in virtually any robotic autoloader publishing system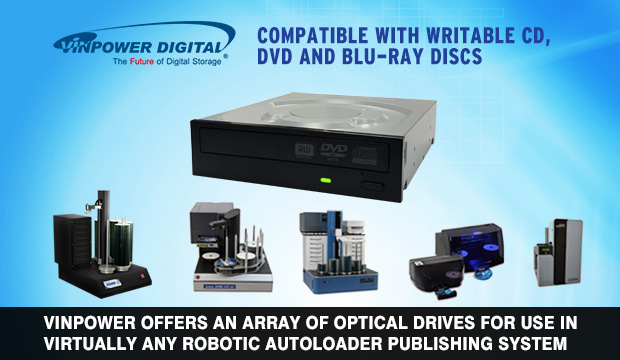 Vinpower offers an assortment of exclusive Half Height Optical Disc Drives (ODD's) that are specially modified to work in robotic autoloaders and publishing systems. If you purchased a robotic autoloader or publishing system, regardless of the brand or age of the hardware, as long as the device can use SATA drives, chances are high that Vinpower has a drive that will work in your system. Purchased an older device where the company is no longer servicing that product, we can help.
We carry a number of exclusive brands and lines from Pioneer, LG, Optiarc, PlexWriter, and more. Don't feel as though you have no options, Vinpower has been working closely with the ODD manufacturers for over 20 years and we have developed exclusive models that not only offer better performance and longer lifespans, but they come with the full backing and support from Vinpower globally. Whether you're looking for a standard CD DVD model or an upgraded Blu-ray option, we have the models that will meet all your needs.
If you don't have a robotic loader and just need a standard manual tower duplicator version or a single burner drive for your computer or server, we have a solution.
To learn more about this item, or any of Vinpower's line of products, visit www.vinpowerdigital.com, or speak with a Vinpower representative in your area.
Interested in this article? Click on the following link to read this and all previous email blasts and interesting related content from Vinpower's official Blog: https://blog.vinpowerdigital.com/