Dec, 17 2021
Vinpower's Pioneer BDR-212V drive offers something for everyone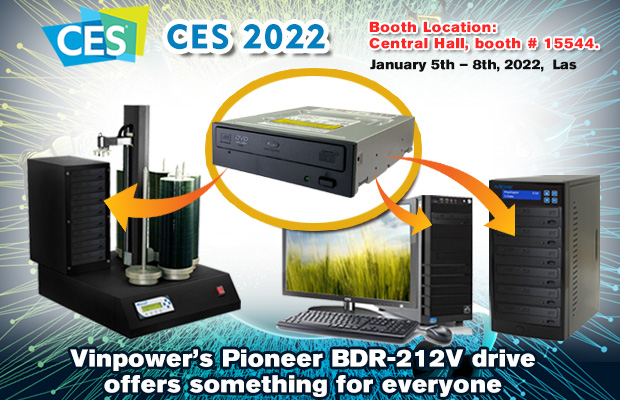 Vinpower Digital's exclusive Pioneer BDR-212V 16x internal BD/DVD/CD Half Height Optical Disc Drive (ODD), in collaboration with Pioneer Corporation, is the perfect ODD regardless of what hardware you're using it in. It's been a great benefit for those whether you plan to use it as an internal computer drive, with manual tower duplicators, or our ROBOT PLUS model in autoloaders. With the BDR-212V's added advantages, like added DVD±R enhancements, virtual elimination of disruptive "donut rings", superior Blu-ray writing strategy, and modifications to work with robotic autoloaders, it really fulfills nearly all requirements for anyone looking for a 5 ¼" internal writer drive.
Plus, the Pioneer BDR-212V ROBOT PLUS version is available with an extended tray and enhanced mechanisms that allow it to work with the widest array of robotic automated duplicators. Vinpower's Pioneer BDR-212V ROBOT PLUS drive is enhanced to allow thousands of in and out operation without failure. We physically modify each drive to handle the rigors of the duplication environment, especially for robotic autoloader duplicators.
For these and many other reasons, the Vinpower exclusive version of the Pioneer 212V series of drives should always be your first choice.
Reminder, Vinpower will be exhibiting at CES in Las Vegas, NV Jan in Central Hall, Booth # 15544. If you're attending, we hope you visit with us.
To learn more about this item, or any of Vinpower's line of products, visit www.vinpowerdigital.com, or speak with a Vinpower representative in your area.
Interested in this article? Click on the following link to read this and all previous email blasts and