Dec, 27 2021
Best to keep copies of your favorite holiday movies on optical discs, as they are not always available when you want to watch them.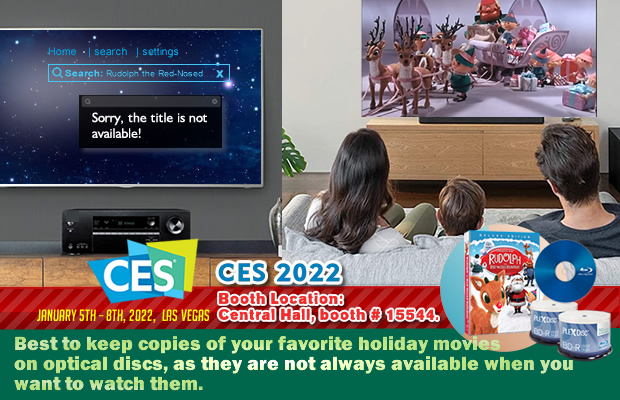 One tradition we have at our house in December is to watch the animated and stop motion Claymation movies from the 70's. Movies like A Charlie Brown Christmas, the Christmas Claymation movies from Arthur Rankin, Jr. and Jules Bass, like "Rudolph the Red-Nosed Reindeer", "Santa Claus is Comin' to Town", "Jack Frost", plus so many other popular holiday classics. These movies were run frequently on regular broadcast over the air TV or "Free TV" throughout the month, however recently, a number of the pay streaming services started acquiring these classics and broadcasting them exclusively for their paid content audience. For instance, Apple TV acquired A Charlie Brown Christmas and now it cannot be shown anywhere except through Apple TV. That means if you don't subscribe to Apple TV, because it's too expensive, not enough programming to justify the cost, or you simply have 12 other video streaming platforms you already subscribe to and can't justify adding another, then you can't want this animated holiday classic.
Instead of being at the mercy of the video streaming services, instead, get these classics on DVD or Blu-ray so that you can watch them whenever and wherever you want. That's why keeping and acquiring movies and even music on optical discs is still worthwhile, because you never can tell when something you want to watch or listen to will actually be available on the streaming services you subscribe to when you want to watch them.
Reminder, Vinpower will be exhibiting at CES in Las Vegas, NV Jan in Central Hall, Booth # 15544. If you're attending, we hope you visit with us.
To learn more about this item, or any of Vinpower's line of products, visit www.vinpowerdigital.com, or speak with a Vinpower representative in your area.
Interested in this article? Click on the following link to read this and all previous email blasts and interesting related content from Vinpower's official Blog: https://blog.vinpowerdigital.com/.