Apr, 29 2022
Live Video from the iXflash allowed me to film my son's entire performance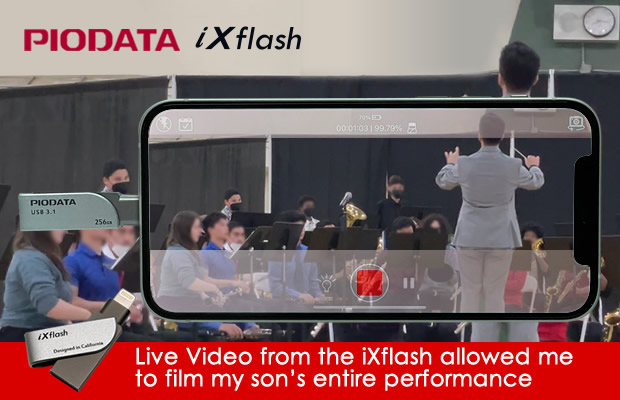 I often share stories or hypothetical scenarios that happen or could happen to others. Well here's an exception where I share a personal experience in which the iXflash was extremely helpful to me. My 2 sons are in their middle school band and chorus respectively. Recently, the school had its first performance in more than 2 years dues to the COVID-19 pandemic. So, it was a big deal for the school, the students, and especially the parents to not only have an opportunity to see our children perform in person, but to return to some semblance of normalcy. As required by the parents handbook, I planned to film the entire recital, approx. 1 hour of performances. Therein lies the problem!
Of course our smart phones, are actually our default cameras, so we are limited by the amount of available memory left at the time we plan to film. In my case, at that time, I didn't have enough space to film the full hour performance, but what I did have was the iXflash. By using the iXflash with my iPhone, it was like adding extra memory as I could film using the remaining iXflash memory and not use any memory from my iPhone. Viola, I had the perfect solution, I used the iXflash Live Video feature and was able to capture both of my son's entire recital without worrying about running out of memory or having to furiously delete content to clear more space.
The best part was when I was done recording, the entire performance was loaded onto the iXflash, which meant I could share it using AirDrop, Messages, load to Social Media, or download onto my computer with the USB connection with no trouble at all. It couldn't have been easier and I could sit back and just enjoy the performance without constantly checking my phone if I had enough memory left. If you film or take a lot of videos, the iXflash is your perfect companion as it is literally the "Swiss Army Knife" of iOS storage devices.
For more details on this item or any product Vinpower offers, please visit our website at www.vinpowerdigital.com, or contact a representative near you.
Interested in this article? Click on the following link to read this and all previous email blasts and interesting related content from Vinpower's official Blog: https://blog.vinpowerdigital.com/