May, 13 2022
With the iXflash Cube, you don't need to buy a new iPhone because your current iPhone's memory is full.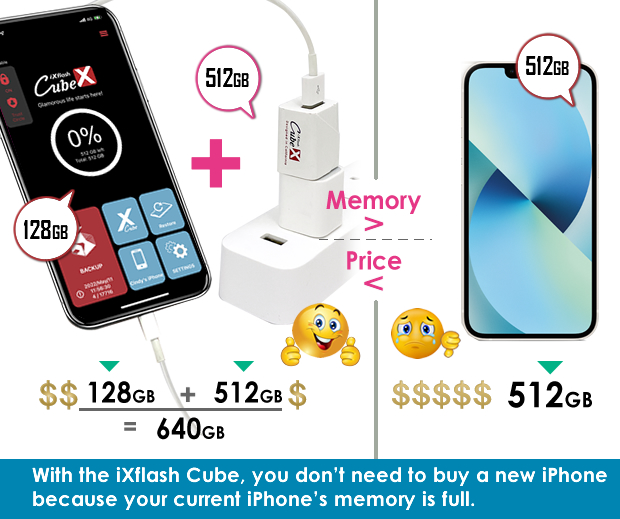 Here's a personal antidote regarding the benefits of the iXflash Cube taken from a real life story of a relative. While visiting my aunt and uncle recently, my aunt told me that she had to buy the latest iPhone because her previous iPhone, which was only 2 years old, had ran out of storage due to all the pictures she took. She said she kept getting messages that her iCloud storage was full, even after she offloaded a number of images. Instead, she opted to buy a new iPhone with a larger capacity and transfer the content from one iPhone to the other.
I told her I could save her the trouble and the expense by simply using the iXflash Cube to automatically backup her pictures and videos on her iPhone and from her iCloud every time she plugged her iPhone in to charge. I showed her how it does a complete backup of all the pictures and videos and that it won't duplicate existing images when backing up. Plus, if my uncle uses it to backup his iPhone, all his images will go to a separate identifiable folder, so they will both keep their images separate but easy to identify.
Another important factor to my aunt was the ability to take pictures off her iPhone and put them back on when she wanted to. I showed here that not only could she back up the images and easily use the USB connection to load them onto her computer, but also all the images and videos retained their original names, date/time stamps, locations, format, etc. That way, she could restore any and all images/videos onto her iPhone or any iPhone/iPad easily and quickly.
With this simple inexpensive iXflash Cube, I showed my aunt how she could have saves hundreds of dollars and continue to take and keep as many pictures and videos as she wants with no added effort on her part. She was convinced and bought one immediately, how about you?
For more details on this item or any product Vinpower offers, please visit our website at www.vinpowerdigital.com, or contact a representative near you.
Interested in this article? Click on the following link to read this and all previous email blasts and interesting related content from Vinpower's official Blog: https://blog.vinpowerdigital.com/