Jul, 29 2022
The iXflash Cube worked like a dream, backing up all my vacation photos from my iPhone while it was charging and I was sleeping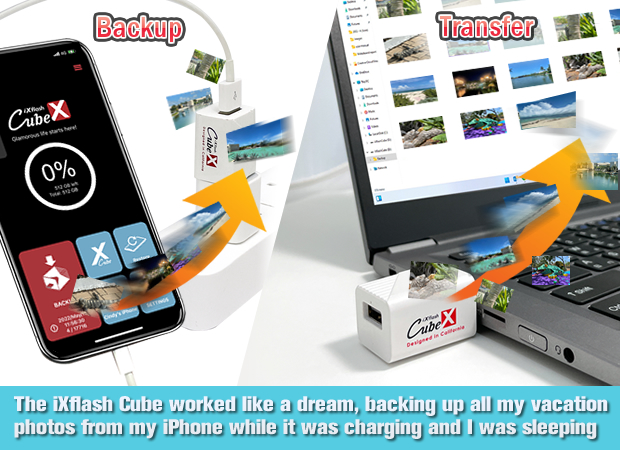 Another testimonial of personal experience using the iXflash Cube. I recently took a long overdue vacation with the family in a beautiful tropical location. Like millions of other people, my iPhone doubles as my camera, especially when I'm traveling. Everyday, I'm capturing tons of photos of all the fun we're having and the interesting sights found as we relax and take in the sights. For millions of people, that's where the photos will remain permanently, because they don't use any sort of backup. However, for me, this was an exiting opportunity to fully test our iXflash Cube, being that this is the 1st vacation I've taken since its release.
I can tell you it couldn't have been easier to use. Every night when I went to bed, I connected my iPhone to the charger, with the iXflash Cube connected. Immediately, the iPhone began charging as normally, but at the same time, the iXflash kicked in and seamlessly began reviewing the iPhone for any new images that haven't already been saved and backed up all the new images and videos. When I work in the morning, my iPhone was fully charged and all the pictures and videos I had taken were backed up onto the iXflash Cube. That was it, there was nothing else I needed to do. I repeated this process every night while on vacation and the same results. I didn't have to initiate the backup or program anything, it all took place automatically.
When I returned from the trip, I simply plugged the USB connection of the iXflash Cube into my PC and all the pictures and videos I took on the my vacation were instantly viewable and I simply download them to my external hard drive, for safe keeping. Not only that, but I was able to instantly post images and video to social media or share them with other friends and family members without any issue. The iXflash Cube is so easy and useful, plus very affordable, it would be a shame to vacation without it if you're an iPhone or iPad user.
To learn more about this item, or any of Vinpower's line of products, visit www.vinpowerdigital.com, or speak with a Vinpower representative in your area.
Interested in this article? Click on the following link to read this and all previous email blasts and interesting related content from Vinpower's official Blog: https://blog.vinpowerdigital.com/